Thoughts
Private Credit demand sees Citco loan portfolio hit $125 billion
New York/London, 4 January 2023 - Credit market volatility has proved challenging in 2022, with increases in both spreads as well as risk-free rates; however, despite this volatility, credit performance has remained intact amidst strong underlying fundamentals, according to Citco Fund Services companies (CFS).

This has resulted in the continued acceleration of capital flowing into Private Credit and Direct Lending strategies as many managers transitioned away from Broadly Syndicated Loans (BSL). CFS has continued to be at the nexus of this shift, overseeing a global loan servicing agency and administration portfolio that is now in excess of $125 billion. This update provides insight into current market conditions, based on aggregate data collected from CFS' loan portfolio.
Firstly, as the below graph shows, there has been a fundamental change in the loan composition of our client base, with a move away from BSL - predominantly bank debt - to Private (known as Direct) Lending strategies.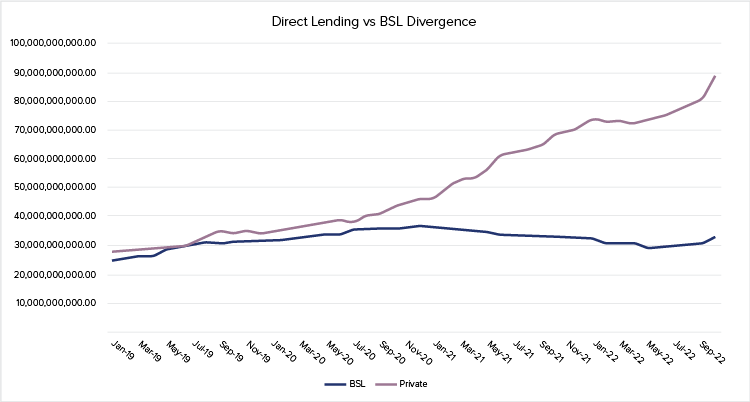 Drilling down into the composition of CFS' client base provides a view of how asset managers interact within the credit markets. As we near the end of 2022, Private Credit clients comprise over half of CFS' loan book (56%), with all other segments trailing - Hedge Funds (25%), Institutional (15%) and the remainder in Real Estate.
The weighting towards Private Credit has been the result of many factors, including: new regulations; capital requirements that have made it onerous for big banks to lend; and strong borrower demand resulting in higher interest rates and more bespoke credit structures.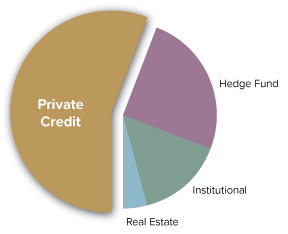 Given the void in traditional liquidity from both banks and high yield bond markets, as well as investor demand for yield, we expect to see Private Credit clients continue their growth in this space, helping to fill the gaps left by traditional banks in accessing and providing capital.
Giving her review of the past 12 months in the loans market, Elaine Furnari, Head of Loan Services, Citco Fund Services (USA) Inc., said: "The past year saw continued acceleration of specific trends in the loans market, with capital flowing towards private credit and direct origination strategies. We expect this trend to continue in 2023, with many managers transitioning away from the leveraged loan and public broadly syndicated debt markets into well-structured originations, backed by strong underwriting and covenants. CFS' Loan Servicing Solutions is meeting this demand by providing clients with industry-leading technology and expertise needed to service these loans, so clients can focus their resources where it matters most—on evaluating new deals and opportunities."